No matter how you slice it, Americans love pizza. According to the USDA, 93 percent of Americans eat pizza at least once a month — in fact, the average American knocks back 46 slices a year. Yeah, that's a lot of 'za.
Even throughout the pandemic, pizza remained a lifeline of the American diet, thanks to its delivery-centric model. For those looking to ditch their 9-5 jobs to get in on the lucrative pizza business, here's what you kneed to know to earn the dough:
Big Numbers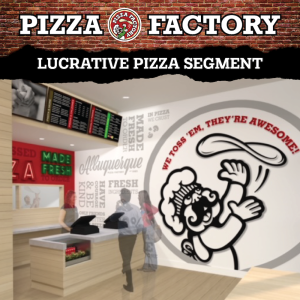 The U.S. pizza industry is expected to score nearly $46 billion in revenue in 2021, according to Restaurant Dive, with the pizza chains dominating the industry with nearly a 60% slice of the market. With no signs of slowing down, there has never been a better time to get in on the growing pizza segment.
No doubt, Pizza Factory franchisees are rolling in dough too—the top third of restaurants reached an average AUV of $1,087,955.*
Customizable Options for Every Plate
The beauty of the pizza industry is the ease of customizable menu options to fit a wide range of preferences and dietary lifestyles. At Pizza Factory, we've adapted our menu items to fit the needs of the ever-changing customer, with the option for gluten-free or cauliflower crusts.
And pizzas are just the tip of the iceberg. Our diverse menu of pastas, sandwiches, salads, breadsticks and more, further proving that there's something for everyone.
Sourcing Matters
When it comes down to the ingredients, sourcing matters. Across the industry, there is a greater commitment to showing customers the toppings, sauces and crusts are sourced responsibly and are as fresh as possible.
And there are no frozen ingredients here– at Pizza Factory, our franchisees are proud to nourish their communities with the highest quality pizza, pasta, sandwiches, salads, breadsticks and appetizers made from made-in-house-daily dough, homemade sauce, hand-shredded cheese and all-fresh toppings. It's one of the most distinctive ways that we set ourselves apart as the best pizza franchise.
Multiple Revenue Sources
Now more than ever, there are more ways to enjoy a hot, fresh pizza. Whether that be ordering for delivery, picking up or dining in, the flexibility and portability of pizza have made it easily adaptable and supported by multiple revenue streams.
At Pizza Factory, we offer flexible buildout options with traditional dine-in and quick-service prototypes ranging from 1,000 – 4,000 sq. ft. To remain ahead of the curve, we've created three different format options that expand potential real estate opportunities for corporate and franchise locations: Express (delivery / carry-out), Fast Casual Dine-In and a Larger Fast Casual Model ideal for parties and social gatherings.
With heightened demand in 2020, Americans spent $14 billion on pizza delivery, according to Statista, forcing pizzerias to invest in technology to get their customers their food faster. That's why we launched our Pizza Factory Loyalty app, and our existing franchisees are reaping the benefits. – From the start of 2021 to May, Pizza Factory's companywide year-to-date sales were the best in the brand's history dating back to 2012. A driver for these soaring sales is our loyalty app, powered by Punchh. Through the app and its ability to ease customer's mobile ordering experience, we saw a 182% increase in year-over-year Loyalty sales followed by a 93% increase in app visits.
Don't wait to grab a slice of the action? Learn more about franchise opportunities with Pizza Factory.
* The financial performance representation discloses historical financial information of the average gross sales for the top 1/3 (30 out of 90) franchisee owned and 1 company owned restaurants there were open and in operation for the 12 full consecutive months commencing December 1, 2019 and ending November 30, 2020 and were at least 1,500 sq ft in size. This information appears in Item 19 of our 2021 FDD – please refer to our FDD for complete information on financial performance. Your results may differ. There is no assurance that you will do as well.