In franchising, there isn't a one size fits all model. Location, customer base and operational expenses all can dictate the size and restaurant format. Every market is unique, bringing its own set of opportunities and challenges. Thus, as franchisors, we must offer multiple build options to provide flexibility for franchisees.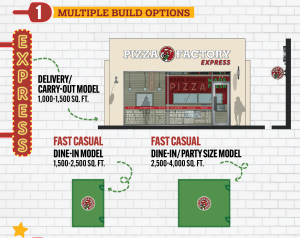 Here at Pizza Factory, we offer flexible new-build or conversion options with traditional dine-in and quick-service prototypes ranging from 1,000 – 4,000 sq. ft. To remain ahead of the curve, we've created three different format options that expand potential real estate opportunities for corporate and franchise locations: Express (delivery / carry-out), Fast Casual Dine-In and a Large Fast Casual Model that is ideal for parties and social gatherings.
When considering which build-out options are best for your brand and franchisees, here's what to consider:
Maximizing Prime Real Estate
Location, location, location! The availability and price of real estate play a major role in deciding where to build a restaurant and the model that will work best in the market. Franchisees may see a greater benefit in renting a compact space for a kitchen-only layout with walk-up counters rather than a sit-down dining space depending on the consumer footprint.
Our brand-new Express model starts at 1,000 sq. ft., allowing new and existing franchisees to grow into new, untapped markets. It features large floor to ceiling glass windows, warm color palettes, natural wood elements and LED signage to capture the essence of a modern hometown pizzeria. Additionally, visibility into the kitchen provides an added level of transparency, giving guests an inside look at the homemade menu items that are made fresh daily.
Meanwhile, a suburban marketplace may be better suited for a larger-scale dining room where parties can gather. Our traditional fast casual format, which features multiple dining sections, an arcade area for the kids, banquet rooms for parties and social gatherings and big-screen TVs throughout would be a good option.
Consumer Trends
Consumer trends can fluctuate by market, where some regions prefer sit-down dining that can cater to large parties, others may prioritize a convenient location where food can be easily reached for pick-up.
For example, a carry-out model is great for an urban market, where customers are always on the go. Our brand-new Express model offers a smaller footprint to support our thriving carry-out and delivery business. In fact, our March 2021 same-store sales jumped 27%, representing our best performance in five years—ultimately signaling our upward trajectory and recession-resistant operations.
Operational Costs
Offering flexible prototypes can be a cost-effective solution to offset real estate prices. Our Express model eliminates many of the operating costs along with furniture, fixtures and equipment (FF&E) expenses associated with larger restaurant prototypes.
Likewise, the format requires fewer employees to run the show. This ultimately saves on labor costs but allows a hyper-effective team to serve at-home on on-the-go guests who traditionally have higher ticket averages.
"Efficiency, convenience and quality are foundational to Pizza Factory, and we led with these business drivers in mind when building the Express blueprint," said Pizza Factory CEO Mary Jane Riva. "The Express debut is such a significant milestone for our development goals, as the format alone allows for Pizza Factory to grow into new communities and untraditional spaces. We're confident the model will support the advanced delivery and carry-out operations we already have in place while providing new ways for our guests to enjoy a diverse menu of fresh food."
Learn more about franchise opportunities with Pizza Factory.