Franchise owners can decide whether they want to run the day-to-day operations, or collaborate with trusted family members or business partners. In most cases, pizza franchise owners find it helpful to bring on a right-hand man—a trusted manager—to oversee the restaurant when they're away.
The interaction between pizza franchise owners and their managers is critical to achieve business objectives. By establishing a clear line of communication, investing in training and development and encouraging innovation, the best franchise owners can build strong relationships with their managers that drive success and growth over the long term.
Clear Line of Communication
One of the most important aspects of any successful business relationship is maintaining a clear line of communication. This is especially true for a franchise owner and their restaurant manager. It's important to make sure you have a solid relationship built on mutual trust and aligned values.
Investing in Training & Development
Training and development can be the keys to higher staff retention, better customer satisfaction, and increased food safety. By investing in a manager's growth and development, franchise owners can not only improve the overall performance of their business, but also build stronger relationships based on a shared commitment for success.
Encouraging Innovation
While franchisees have established systems and processes in place, it's important to allow managers to use their own judgment and creativity to solve problems and build customer relationships. At Pizza Factory, we encourage each individual franchise owner to establish community roots and give them the flexibility to foster those connections.
We recently sat down with Pizza Factory Ocean Shores franchisee Margaret Dawson and her manager Patrick Minks to learn more about how their relationship has set their restaurant up for success.
Before Ocean Shores opened in 2022, Dawson and Minks attended training together to learn the ins and outs of Pizza Factory restaurant operations. Dawson credits picking the right team from the beginning for her ability to run the restaurant efficiently.
"Not all franchisees chose to have a manager or an assistant manager, but I cannot tell you how vital it has been to have Patrick as my manager and partner, alongside my assistant manager and team leads," Dawson said. "Having that team experience together at training has been magical; I can't imagine doing this without that team. When I think about scaling in the future, I know we have a strong team in place to handle multiple stores."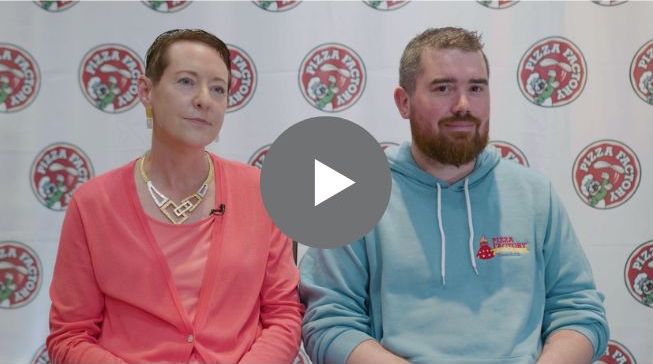 To learn more about franchise opportunities with Pizza Factory, fill out an inquiry form, and a representative will be in touch.