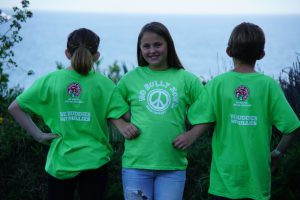 October holds a special place for Pizza Factory, as it is a whole month dedicated to a cause that the pizza franchise holds dear to its heart: awareness of bullying. The annual National Bullying Prevention Month program is designed to stomp out bullying, goals that Pizza Factory franchisees are dedicated to year-round.
One of the many activities planned in October includes encouraging kids at school to make friends with someone they don't know. Indeed, Pizza Factory's special No Bully Zone benches are designed to encourage just that: new friendships. Pizza Factory reaches out to the schools in which the pizza franchise is located as part of its "No Bully Zone" program.
Schools host assemblies where the CEO of Pizza Factory, Mary Jane Riva, shares the importance of weeding out bullying and distributes special friendship bands to children. Each school also receives a "Friends Are Awesome," No Bully Zone bench for installation in school playgrounds. The benches are meant for children to seek out when they're in need of quiet time or a new friend. By promoting new friendships, Pizza Factory hopes it will help stomp out bullying, a scourge that has lasting negative consequences, including school dropout, for kids.
Pizza Factory's commitment to prevent bullying is just one example of its marketing outreach through which franchisees build goodwill and give to the community. The No Bully Zone program is an integral part of Pizza Factory's marketing strategy in which franchisees can become involved with their local school systems, helping to foster new friendships with their anti-bullying initiatives that include t-shirts, videos and of course, the benches.
In fact, Mary Jane Riva recently spoke on a podcastwith Smart Pizza Marketing to discuss how giving to the community has postively impacted both Pizza Factory and the communities it serves while creating a professionally and personally rewarding way of doing business.
Mouthwatering food and authentic community buildingwin the pizza franchise high marks and the continued loyalty of customers for franchisees. Both sales within the franchise and the children in the communities it serves benefit greatly from Pizza Factory's No Bully Zone program and marketing strategy.
In its more than 110 locations across the West, Pizza Factory delivers outstanding food and service to the communities in which it is located and stands by its "We Toss'Em, They're Awesome!" motto in crafting mouth-watering pizzas. The "awesome" in Pizza Factory extends beyond the food and to extensive community outreachas well.
Learn more about Pizza Factory and its No Bully Zone initiative.