Why Pizza? Why Now?
Pizza remains a staple in the American diet, as 83% of consumers eat pizza at least once per month
The pizza industry earned an estimated $47.5 billion in revenue in 2021
The market size of the Pizza Restaurants industry is expected to increase 2.8% in 2022
Our Flexible Formats
Are you a seasoned entrepreneur looking for your next great investment? A pizza fanatic looking to be your own boss? Or a multi-unit operator looking to diversify your portfolio? Whatever your background, there are different paths to Pizza Factory ownership. Franchisees can take advantage of opportune real estate through our various flexible formats.
(NEW) Quick Service / Express – Delivery/Carry Out (1,000 – 1,500 sq. ft)

Perfect for a variety of markets, this streamlined operation is optimized for delivery and carry-out revenue. The Pizza Factory Express offers limited to no seating and the option of a reduced menu.
Fast Casual / Dine-In Model (1,600 – 2,500 sq. ft.) 

This traditional model allows for a more casual dining feel. The model serves pizza, pasta, wings, sandwiches and salads, and typically includes a salad bar and lunch buffet.The format features big-screen TVs, local craft beers, a selection of wine and includes delivery and carry-out revenue.
Fast Casual / Dine-In Party Model (3,000 – 4,000 sq. ft.)

A larger take on our traditional model, this format can include a spacious dining room, arcade area, banquet rooms for parties and social gatherings and big screen TVs throughout the space for optimal game day viewing. Model also includes delivery and carry-out revenue.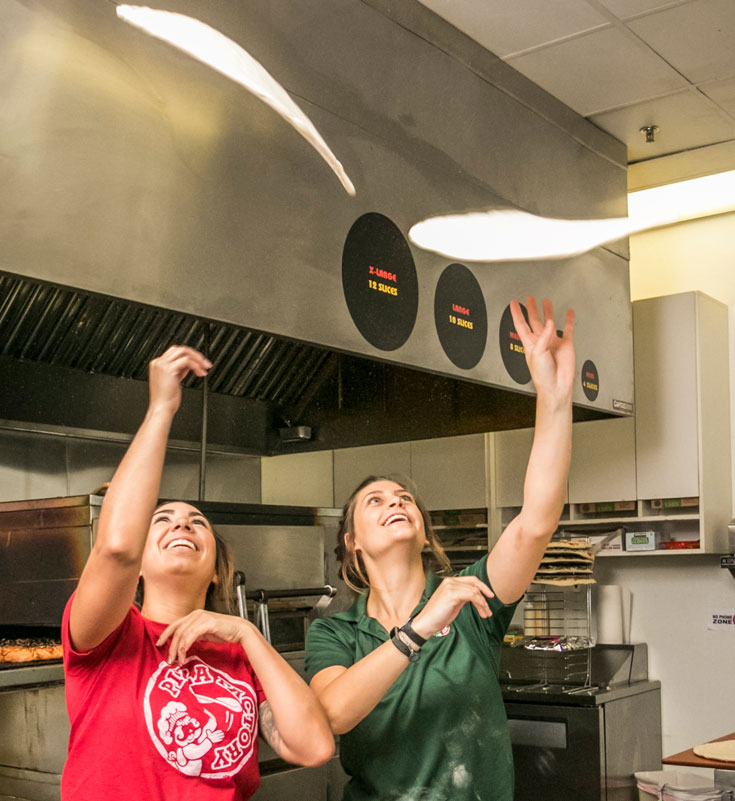 Available Markets
Opportunities for single or multi-unit development are available in markets across the U.S. Explore conversion sites to open quicker and for less. Additional opportunities include non-traditional locations such as colleges, airports, travel centers and more.
Traits of a successful franchisee
A successful Pizza Factory franchisee wants to be their own boss with the support of our team and in collaboration with our network of owners. Our multi-unit, multi-brand investors are eager to diversify their portfolio and scale quickly with an established brand in untapped markets. They want to serve fresh, quality food – not just any food – but food that makes people say WOW…this is Awesome! Our franchisees care about their communities and want to make them better places to live, work and go to school. Pizza Factory franchisees are hardworking with a can-do attitude.
Ultimately, they just want to do something they're passionate about with a scalable, proven concept!
Financial Requirements
$90,000 liquid assets
$250,000 net worth
If you don't meet these criteria, don't give up! We can connect you with several lending groups that work with our franchisees and who can educate you on your financial options including SBA and Retirement Account Rollover.
Investment & Incentives
Initial franchise fee: $20,000
Royalty fee: 5%
Ad fee: 3%
Total investment range: $274,000 – $542,000
Costs can vary depending on the size of the format and other variables. Pizza Factory is continually working to make sure the opening and ongoing operations of your location are efficient and cost-effective. Did you know that Pizza Factory's initial investment is lower than our competitors?
Incentives
To spearhead our growth into new markets we are offering a development incentive program to new franchisees. Whether you decide to start with one store or commit to develop multiple locations. We offer different programs to support your growth that include reduced franchise fees, waived/reduced royalties, free equipment and more! Applicable for all of our buildout options: Express, Traditional Dine-In and Conversions. To learn more about our Franchising Incentives contact us today!
More Happy Franchisees
"One of the most amazing benefits of owning a Pizza Factory is my availability to be with my children. My daughters are 11 and 13 years old and are very busy with school, sports, 4H, and other activities. I cannot miss these once in a lifetime moments that I'm able to share with them. Days, nights, and weekends, I can schedule my time around attending important events with my family." - Troy Van Velson, Corcoran Pizza Factory
Become a Franchisee